Food Machine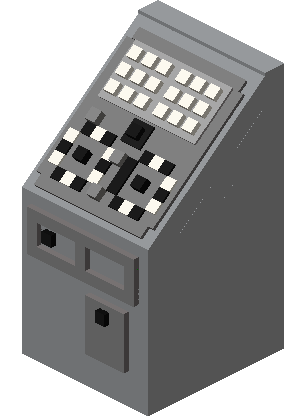 The Food Machine is a machine that produces food using Tardis Artron Energy. It can be mined with a pickaxe.
---
Crafting Recipe
Name
Ingredients
Recipe
Food Machine

1 x Ender Pearl
1 x Exotronic Circuit
6 x Iron Ingot
1 x Redstone Block
Uses
Obtaining Food
Using Tardis Artron energy to produce Bread.
Usage
Baking Bread
Place Food Machine in the Tardis interior dimension.
Ensure Artron Banks are higher than 1%.
Right click Food machine and wait for the sound effect to finish playing.
After the sound effect has finished playing, one loaf of bread will drop from the Food Machine. This uses up 1% of the Artron Banks.
Notes
The Food Machine can only function in the Tardis interior dimension. If it is placed in any other dimension, it will not be able to produce food.
The bread drops onto one of the 4 diagonal surrounding blocks around the Food Machine. (North-West, North-East, South-East, South-West. Hence, to ensure the player can pickup the bread, sufficient space must be given. A 3x3x3 space is recommended.
There is a cooldown for each use of the Food Machine that spans the duration of its sound effect.
Spamming the food machine will continue to use up Artron energy, reset the cooldown timer and will not produce bread.