Biodampener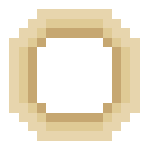 Figure 1 - Biodampener
The Biodampener is an item that prevents a player from being teleported to via a Tardis' Telepathic Circuit. 
---
Crafting Recipe
Name
Ingredients
Recipe
Biodampener

1 x Artron Capacitor
1 x Exotronic Ciruit
7 x Gold Ingot
---
Usage
Place the Biodampener in any inventory slot to prevent a Tardis from teleporting to the player.
---
Notes:
If the Biodampener is placed in a container (such as a shulker box) that is stored in the inventory, it cannot function.