Waypoint Data Crystal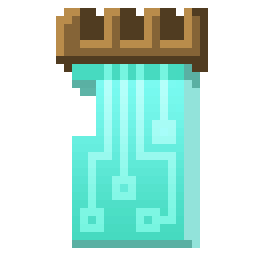 The Waypoint Data Crystal is an item that allows players to transfer waypoints from one Tardis to another, or to restore old waypoints.
---
Crafting Recipe
Name
Ingredients
Recipe
Data Crystal

1 x Exotronic Circuit
2 x Gold Nugget
2 x Xion Crystal

 
Usage
Restoring Old Waypoints
Waypoint Data Crystals contain waypoint data from a player's Tardis when Waypoint Banks are deleted during an Interior Change. These data crystals will be saved in the Reclamation Unit.
The Data crystals can restore waypoints by right clicking with a crystal on a Waypoint Bank block. This will transfer all waypoints from the crystal to the Waypoint Bank.
Transferring Waypoints
Waypoint Data Crystals can also be used to transfer waypoints from one player's Tardis into another player's Tardis by right clicking with a crystal on a Waypoint Bank Block. This will extract the waypoints from the Waypoint Bank into the Data Crystal