Exotronic Circuit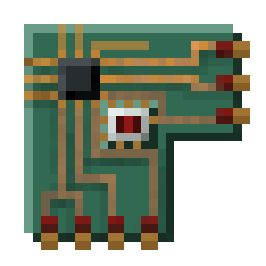 Circuitry, or Exotronic Circuit are an item used to craft a variety of items.
---
Uses
1.14.4 (Circuitry)
Crafting
1.12.2 (Exotronic Circuit)
Crafting
Chameleon Circuit
Stabilizer Circuits
Temporal Grace Circuits
Interstitial Antenna
Time Vector Generator
Dematerialisation Circuit
Fluid Link
Steady State Microwelder
Biodampener
Dalek Gunstick
Sonic Screwdriver + variants
Stattenheim Remote
Roundel Panel
Interior Door
Acquisition
1.12.2 (Exotronic Circuit)
Exotronic circuits can be obtained by drops from slain Cybermen or Daleks.
1.14.4 (Circuitry)
As of 0.0.2 pre-alpha, circuitry cannot be obtained in survival mode. They are currently used as a test for crafting recipes.
They are only available in creative mode via the Tardis Mod Creative Menu Tab. 
---
Gallery

Figure 1 - Exotronic Circuit, present in 1.12.2 versions of the mod