Exotronic Circuit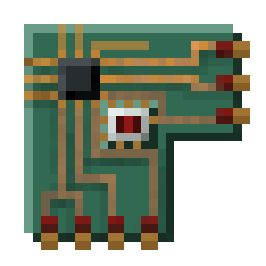 Exotronic Circuit are an item used to craft a variety of items.
---
Uses
1.14.4 
Crafting
1.12.2 
Crafting
Chameleon Circuit
Stabilizer Circuits
Temporal Grace Circuits
Interstitial Antenna
Time Vector Generator
Dematerialisation Circuit
Fluid Link
Steady State Microwelder
Biodampener
Dalek Gunstick
Sonic Screwdriver + variants
Stattenheim Remote
Roundel Panel
Interior Door
Acquisition
1.12.2 
Exotronic circuits can be obtained by drops from slain Cybermen or Daleks.
1.14.4 
As of 0.0.2 pre-alpha, exotronic circuits cannot be obtained in survival mode. They are currently used as a test for crafting recipes.
They are only available in creative mode via the Tardis Mod Creative Menu Tab. 
---
Gallery

Figure 1 - Exotronic Circuit, present in 1.12.2 versions of the mod